See on Scoop.it – My Funny Africa.. is this the lions last roar?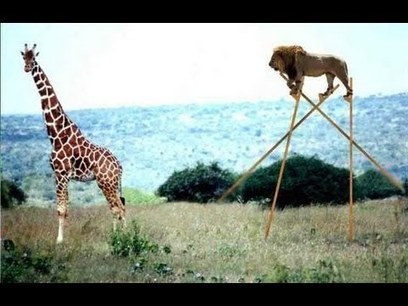 أسود تهاجم زرافة .. Nat Geo Wild Lion attack Giraffe أسود تهاجم زرافة .. Nat Geo Wild Lion attack Giraffe Nat Geo Wild Giraffe Lion attack Giraffe Lion attac…
Greer Noble's insight:
Some pretty hungry kitties to choose such a difficult prey.. it's nature's way, unlike some of us humans they kill to eat.. well you eat meat don't you? The only difference.. most of us don't have to kill our dinner, it's done for us.. so please don't critisize these clever kitties.. you should admire them! It's called 'balance of nature'.. unlike us who do everything in our power to upset the balance of nature.. greed for possessions.. wild animals don't need 'possessions'.. why are we so much like magpires.. having to hoard all the time? We can't take it with us.. what weird creatures we are!
See on www.youtube.com