See on Scoop.it – My Funny Africa.. Bushwhacker anecdotes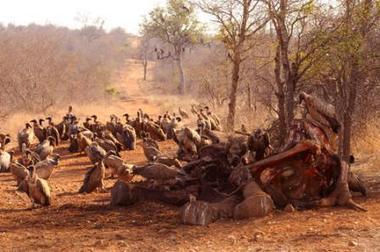 May 29, 2013 Economy Watch
THE ECONOMICS OF THE ILLEGAL WILDLIFE TRADE
The illegal trade of animals or animal parts has become one of the most lucrative black market activities in the world. Driven by the promise of high profit margins, poachers in Africa – namely militias, armed groups, and insurgent groups – have driven rhinos and elephants close to extinction, while murdering hundreds of park rangers in the process. NGOs and governments now face a race against time to reduce demand for wildlife trade, particularly in Asia, as well as to equip those on the frontline to fight a well-armed enemy…. http://www.economywatch.com/economy-business-and-finance-news/the-economics-of-the-illegal-wildlife-trade.29-05.html
May 29, 2013 World Wildlife Fund
UN CHIEF TAKES POACHING CONCERNS TO SECURITY COUNCIL http://wwf.panda.org/how_you_can_help/?uNewsID=208833&utm_source=dlvr.it&utm_medium=twitter
MORE ON THE TRAGEDY OF WILDLIFE POACHING http://www.scoop.it/t/biodiversity-is-life?page=1&q=POACHING
Greer Noble's insight:
Attention world! PLEASE bouycot Asia. Greed, greed, greed, greed. God, how is it that the powers that be can send people to the moon but can't SAVE the most magnificent animals on this earth.
Asia, what are you going to do after you've murdered all our elephant, rhino etc????? How are you then going to quench your greed and lust?
See on www.economywatch.com