See on Scoop.it – Game Guides in Africa..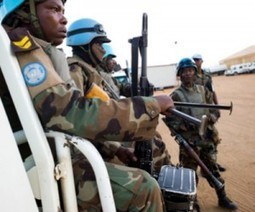 As the annual wage bargaining season begins, authorities fear the situation will get worse.
South Africa's Labour Minister, Mildred Oliphant, has said the government was "seriously considering" the deployment of peacekeeping forces to contain the new wave of violence affecting the country's mining sector.
The warning, reports iafrica.com, is a clear sign of an industry under siege, hit by a vicious union turf war and labour demands that has coincided with a global decline in commodity prices.
Peacekeeping forces are typically found in war zones, but the shooting at Lonmin's (LON:LMI) mine on Monday, which cost the life of a union member, has highlighted a creeping crisis in South Africa's mining sector. This problem became evident last year, when police killed 34 protesters also at Lonmin during an illegal wage strike. …
See on www.mining.com