See on Scoop.it – Game Guides in Africa..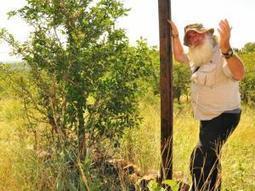 Mansions are springing up in the poverty-stricken villages lying along the border of South Africa and Mozambique. With air-conditioning and modern finishes, they lie in the midst of villagers who often have no access to water. Cars stolen from South Africa whizz by, sometimes driven by boys as young as 16. There's music, women, drinking.
It's the rhino war zone – villages that lie along the border between South Africa and Mozambique where warlords rule with impunity and young villagers are lured into poaching by wads of cash.
"Picture a local rhino warlord, who just had millions of meticai, the currency in Mozambique, deposited into his account because of a successful poaching effort, slaughters several cattle to celebrate his windfall and gives the people in the village food to eat, and at the celebration are guards and supposed anti-poaching teams," said Kingsley Holgate, explorer and humanitarian, recalling what he had seen in his latest expedition, the Izintaba Zobombo Expedition….
See on www.iol.co.za