See on Scoop.it – My Funny Africa.. is this the lions last roar?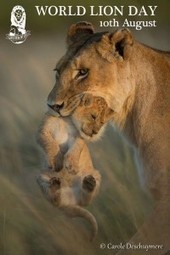 … may decline to near extinction over the next 20-40 years without urgent conservation measures.
Greer Noble's insight:
Africa without lions.. the world without lions?! That will be a very sad and tragic day indeed.. in fact it will mark the decline of the human race and it's extinction!!! So be WARNED! To save yourself save a lion TODAY. Support any wildlife charity but the Born Free Foundation in particular are the experts in lion conservation. http://www.bornfree.org.uk/  Please give generously.. it's your skin as much as theirs at risk!!!!
See on volunteer-africa.co.uk