See on Scoop.it – Game Guides in Africa..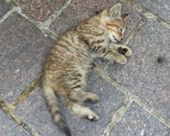 The national nonprofit Animal Legal Defense Fund (ALDF) is offering a $2,000 reward for any information leading to the arrest and conviction of the perpetrator(s) who threw a kitten from a car toward a group of animal rights demonstrators on…
Greer Noble's insight:
Cat-haters are the pits! I believe they will one day get their comeuppance.. I'm not very religious but there's a lot of truth in 'the Lord works in mysterious ways'.
FB: Please 'Like' & SHARE if you agree with me. Hopefully there will be some record LIKES & SHARES!!!
Twitter: Please RETWEET
LinkedIn & other posts: Please share and comment.
Damn, shame on whoever did this!
See on aldf.org