See on Scoop.it – Cartoonists.. creative artists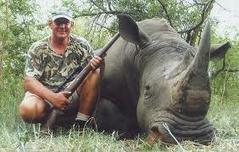 RT @AmaBodhi: BAN TROPHY HUNTING NOW! stop #AfricasXtinction http://t.co/UAbpJ1LS3X
HELP TO PROTECT AFRICAN WILDLIFE!!
Greer Noble's insight:
Whoever you are, I see you fancy yourself as a macho army guy in your camouflage so why not put your hunting skills to real use and hunt poachers and terrorists. If you get your jollies from killing poor defenceless animals why not really prove who you are and rid the earth of this vermin, those who destroy lives and peoples livelihood. Rhino mind their own business if left in peace. I've never heard of rhino stalking humans with evil intent! Shooting poachers and murderers will give you far better thrills AND you'll be HELPING mankind, not destroying nature, God's gift to mankind!
See on twitter.com